Our Story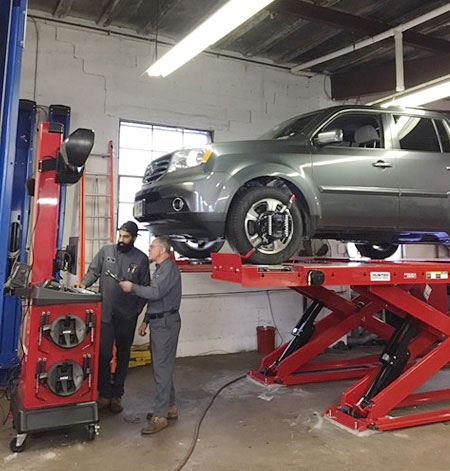 I started my business in 1970 at City Line and Haverford Rd, I had no idea how hard life would be for the next six years! My contract required that I be open for 24 hours a day. I stayed true to that, even if I had to work the third shift (the night man!). Many times, we were short staffed – meaning no days off, and way too many 36-hour shifts. It all took a toll on me. I decided to shut the lights at night (open 24 hours is way too much) and see who would call and tell me I'm in violation of my contract. No one ever called. Eventually, I called the district manager told him he could have the station back, I'm closing at 11pm. A few weeks later he came by with the amended contract.

Fast-forward ten years, it is now 1980, and I was given a plaque for 10 years of excellence, and a letter because the Shell Co. was leaving the east coast, and the station was not their property. I was given 10 months to find a place to put my business. The property owner had already had a lease with 7 /11. I had found a shop a mile and a quarter from the Shell. In September 1981, I opened Wynnewood Park Service Center with my business partner at the time.

In the next 40 years, life was great! I had some rough times - a few medical operations – owned and operated two more businesses, but at the end of it all - I'm still here, just me! I love my work, and I enjoy going to work everyday. I have three great technicians, 5 lifts, and lots of high-tech equipment. And if that doesn't sell you on us - we also have coffee, dog biscuits and local shuttle! So please – stop in! Grab a cup of Joe! And feel free to just say hello!
Our Customers Come First!
We are thankful for each and every customer and strive to offer the best auto mechanic services available! Thanks for choosing us!
Our Happy Customers
Every vehicle great service for decades!
Great guys to service ur car!! Have known for over 35yrs. Very reasonable!! Thanks Eddie..thanks Stephen!! Always a pleasure to see u guys!! Thanks Mary Ellen
First time use for inspection and many other services. Lou informed me of all that was required and explained my options clearly and honestly. I really appreciate the advice he gave me. He could have simply done all the work rather than letting me know it might be a better option to purchase a different automobile. Thank you. I'll will definitely recommend Wynnewood Park Services.
Took my car in for inspection. I knew what needed fixed and this was my first time coming here so I was curious to see if they'd try and gouge me. They were straight forward and reasonable. My car was ready in a timely manner and had good experiences interacting with the front desk and mechanics.
Wynnewood Park Service is AAA Approved!
Did your car break down? Call AAA using the 800 number below!
Contact Us
Please get in touch and we will respond to your request as soon as possible!